Hello ladies :) I got more stuff added. Please help me clear these out, they need a new owner hehe. Again, please read the information in the sidebar before placing an order. If you have any questions, email me. Thanks =)
MAC Shadestick in Beige-ing. Brand New.
$14

(FREE SHIPPING!)
[SOLD]
Clinique Acne Solutions Post Blemish Formula. Used several times, i'd say 70-80% left.
$6

[SOLD]





Clinique Youth Surge SPF 15 Age decelerating Moisturizer. GWP, tested once.
$4
[SOLD]
The Body Shop Ultra Smooth Foundation in Shade 8. Used 4 times (including swatch below).
$4
It looks dark but it does blend well with my skin. I'm an NC40-42 for referrence, and my hand is way lighter than my face :)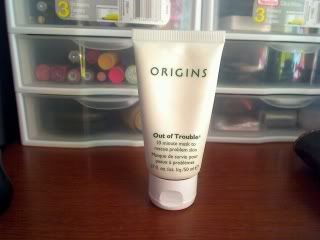 Origins Out of Trouble.Travel size. 1.7 fl oz/50 mL.70% left.
$3
Stay pretty everyone xoxo
[SOLD]